Customer Issue - Claim
The following collection of fields, allow a customer to raise a claim. ...
Customers will raise a claim when their consignments are damaged or lost.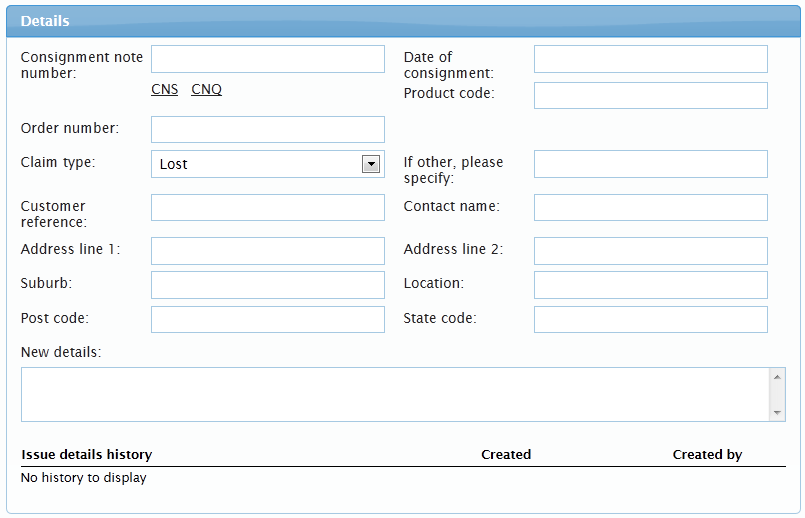 Contacts Panel
For information on the contacts panel click here
General Panel
For information on the general panel click here
Details Panel
Consignment note number:
Enter the consignment note number that this issue is related to.
Date of consignment:
Enter the date the consignment was created.
Order number:
Enter the order number associated with this consignment.
Note: You might not have an order number.
Product code:
Enter the product code of the producs on this consignment
Claim type:
Clicking on the dropdown menu will display the following list of options.
Select the option that is most relevance to this issue.
If other, please specify:
If none of the options in claim type are relevant, then use this field to specify the claim type.
Customer reference:
Use this field if you have a reference number relating to this issue or freight.
Contact name:
Type the name of the contact, who first noticed the problem.
This is often the person who signs for the delivery of your freight.
Address details:
Use the following fields to specify your address.
Address line 1: Enter the street address in this field.
Address line 2: Use this field if you need additional space for the street address.
Suburb: Enter the suburb in this field.
Location: Use this field for additional address details.
Post code: Enter the post code in this field.
State code: Enter the state code or state name in this field.
New details:
This area allows you to enter any other details relating to the claim or actions taken so far to resolve the issue.